Gdje smo i kako do nas
U Zagrebu, na Gornjem gradu, baš točno točno iza Kožarićeva kipa A. G. Matoša, zelena vrata. 
Ako ne znaš gdje je to točno, malo prošetaj po Strossmayerovom (Štrosmajerovom) šetalištu, uživaj u pogledu na grad, i među klupama traži metalnog, stiliziranog brku koji sjedi na svojoj klupi i gleda na grad, nasmiješen, ali u sebi vjerojatno deklamira (recitira) 1909. 😉 Uglavnom, ne možeš promašiti.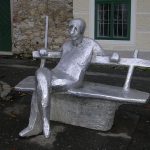 Tramvaj
Tramvaji br. 1, 6, 11, 12, 13, 14, 17: siđi na Trgu bana Jelačića i protegni noge prema Radićevoj (lijevi kut sjevernog dijela Trga). Nakon 30-ak metara u Radićevoj, uđi u uski prolaz na lijevo i Zakmardijevim stubama se popni do Strossmayerovog šetališta, odnosno do Matoša. Da, teško je, ali to ti je fino zagrijavanje… ?
I svoj bicikl možeš unijeti u naš prostor (pazi na bijele zidove ;)).
Auto
Ako dolaziš autom, najjedostavnije je parkirati u garaži na Tuškancu ili u Ilici kod Frankopanske, pa se popneš na zapadni dio Strossmayerovog šetališta. Ostale mogućnosti su garaža Cvjetni (pa Tomićevom pokraj uspinjače na Stross), garaže u Tkalčićevoj (Kaptol centar i Cascade centar), parkiranje na Zelenom valu ili na Novoj vesi ili u Medvedgradskoj.